Retro Recipes
Group Kletskoppen:
A. Asklund Andersson (LiU)
Charlotte Brachtendorf (HdM)
Jennifer Johnstone (UWS)
David Newman (UWS)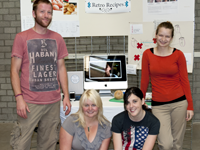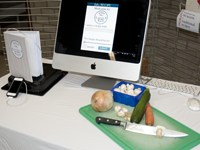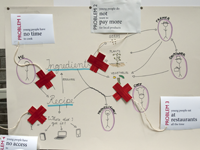 Couleur Locale of the Westhoek / Haute Cuisine
After chosing the brief about "Haute Cuisine" we started doing research by interviewing Belgian participants and visiting a wine festival. In the beginning it was important to find out which problems we were facing. All together we came up with three main points:
During the last few decades a generation gap emerged concerning the local food. Traditional recipes are not passed on to the younger generation and are therefore forgotten. This led to our most important goal: making traditional cuisine viable for young people.
Moreover we detected an overload of stereotypes. When it comes to Belgian cuisine people generally think about Belgian chocolates. These stereotypes overshadow the local cuisine. Hence there is less interest in traditional recipes.
Furthermore the agriculture has changed. Ingredients that are needed for traditional recipes might not be available anymore.
To achieve our goal of making local cuisine viable for young people, we had to find out more about young Belgians. What do their lives look like? How and when and what do they eat? After finishing school most young people from Westhoek move to a bigger city to visit university. Since they are busy studying they barely have time for cooking. They would rather go out for dinner with friends. Nevertheless on weekends they visit their families at home and enjoy the fresh cooked meals their parents or grandparents prepare.
Having collected all the information we needed, we created our product: "Retro recipes".
Retro recipes consists of a book and an app. The book contains many traditional recipies. Each recipes has its own timeline, so you know exactly when to start cooking. The back of the book is equiped with an USB port. That way you can connect your book to the app. The app offers a real-time cooking show for all the recipes. In addition the app has many more features. On request you can get further information on every recipe as well as on every ingredient. The app also tells you where to find the closest selling point of the chosen ingredient and offers you to order the necessary amount in advance.
Since in the last years retro has become very popular amongst young people we wanted to use this trend to convey our message.
All in all this project would close the generation gap, get people to connect to the country side and ensure that traditional recipes are passed on.