Swabal
Group Nagold:
Johanna Johansson (LiU)
David Newman (UWS)
J. Nyberg Hamrén (LiU)
Anja Schäfer (HdM)
Marie-Charlotte Willequet (AHS)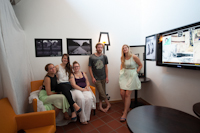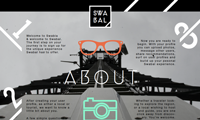 See. Feel. Connect. Discovery at your Fingertips.

Thrown together by chance, a group of young creatives planted the seeds that became Swabal while travelling in the German region of Swabia. Unhappy with the online resources for travellers on the market they decided to design their own: and where better to start than the region in which they first met?

Launching in the coming months Swabal, the one stop shop that allows users to connect both with the region and it's inhabitants. Redefining travel, with a user-friendly coolness that leaves other online resources behind in the dust.

Features of the application include sections for both travellers and locals, with the ability to connect with local hosts for accommodation and advice on the hippest places, to personalize your travelling experience in a way no other app can match.

Whether you want a city break, a rural retreat or a full-scale tour, Swabal both connects and informs. After creating their profile, either as a local to the area or a traveller through it, users can connect through Swabal to a variety of digital travel tools. You can search for like-minded people, connecting to a community of users, and browse venues, maps, photographs and recommendations from the ultra-cool Swabal database.

In a recent Neon Magazine article, travel writer David Newman described an eventful trip using Swabal, commenting, "Swabia is a very cool place. Swabal allows me to connect with the region on a very personal level." It is the personal touch, which sets Swabal apart from the rest of the travel apps on the market, inviting the global community into the region, and connecting on a local level in a way that allows travelers to discover far more than the average tourist.

And with Swabal, discovery is at your fingertips.